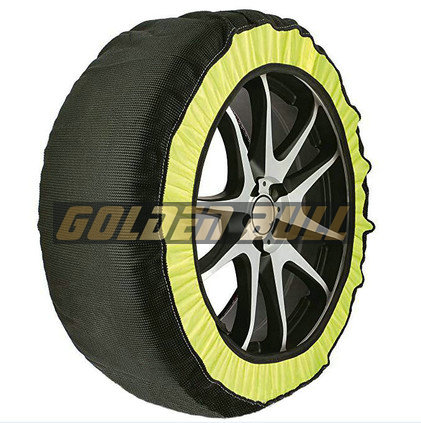 The Auto Snow Sock is a newly developed tire cover.It is a textile tire cover that increases traction on icy and snowy winter roads. Auto Snow Sock is very easy and quick to mount and remove – much easier and quicker than any metal snow chain.It is accepted by more and more countries and customers.
More features:
☆Accepted as a Snow Chain in more and more countries
☆Special textile,light weight ,but standing wear and tear
☆Good performance in traction on icy and snowy roads
☆Comfortable while driving ,less noise and vibrations
☆Do not damage to tire and rims
☆Works on all vehicles with low clearance between tire and car body
☆Easy and fast to fit and remove, even in cold and difficult winter
☆Reusable,recyclable and environmental
☆Easy to store and carry
Mounting Instructions:
It could hardly be easier – The mounting of Snow Sock is done in three quick steps:
Stop the vehicle and apply the hand brake. The vehicle must not be on a slope during fitting. Snow Sock should be fitted to the driving wheels. Use the orange gloves that come with your pair of Snow Sock.
1---Begin mounting from the top of the tire working downwards. Stretch the elastic band over the top of the tire, so that the band is on the inner side of the tire. Then pull the crossing straps in order to adjust the Snow Sock into the correct position - as far down as possible until the front panel becomes centered.
2---Once in the proper position, with only the lower part not covering the tire, move the vehicle approximately 1m forth or back.
3---Pull the remaining part over the tire and into position. The Snow Sock will automatically self-center when you start driving.
Warning:
Snow Sock should only be used on ice and snow, and should be removed immediately once the conditions no longer requires it to be used, or when the vehicle is parked.
When starting up, no one should be behind the vehicle as stones and lumps of ice, etc.
could be thrown backwards with great force. Display extra caution when fitting and driving with Snow Sock!
Specifications table:
Item No.

Tire Sizes

70

145/70R13

175/60R13

165/65R13

135/70R14

165/55R14

155/70R13

195/55R13

185/55R13

185/50R14

185/45R15




155/65R13

135/80R13







71

145/80R13

195/60R13

155/65R14

145/65R15

155/60R15

165/70R13

145/70R14

175/60R14

175/50R15

185/50R15

175/65R13

165/60R14

205/50R14

195/45R15

195/40R16

185/60R13

185/55R14










72

165/80R13

195/60R14

185/65R14

165/65R15

195/55R15

185/70R13

175/70R14

135/80R15

175/60R15

185/50R16

155/80R14

205/60R14

155/70R15

185/60R15

195/70R16

73

175/80R14

235/60R14

185/70R15

195/60R16

205/50R17

205/70R14

165/80R15

195/65R15

215/55R16

235/45R17

215/65R14

175/75R15

215/60R15

235/55R16

205/45R18




235/55R15

225/40R18

74

225/70R14

215/70R15

185/75R16

245/55R16

215/55R17

185/80R15

225/65R15

205/65R16

185/65R17

245/50R17

195/75R15

245/65R15

215/65R16

225/55R17

235/45R18

205/70R15

175/75R16

225/60R16

215/50R18

265/40R18

75

205/80R14

205/75R15

205/70R16

215/60R17

225/50R18

215/75R14

255/60R15

235/60R16

235/55R17

235/50R18

235/70R14

255/75R15

255/55R16

255/50R17

245/45R18

195/80R15

175/80R16

185/70R17

205/55R18

255/45R18

76

205/65R13

165/75R14

235/45R15

175/55R16

205/40R17

215/60R13

225/55R14

195/50R16

205/45R16

225/35R17

225/60R13

205/50R15

215/45R16

225/40R16

245/35R17




215/50R15

255/35R16

195/40R17

225/50R18

77

175/80R13

205/65R14

205/55R15

225/45R16

215/40R17

205/70R13

215/65R14

215/55R15

255/40R16

225/40R17

235/60R13

145/80R15

175/60R15

225/50R15

235/40R17

165/80R14

165/70R15

185/55R16

255/45R15

225/35R18

175/75R14

175/65R15

195/55R16

175/55R17

235/35R18

185/70R14

185/65R15

205/50R16

195/45R17

255/30R18

195/65R14

195/60R15

215/50R16

205/55R17




78

185/80R13

155/80R15

245/45R16

225/50R16

245/35R18

185/75R14

175/70R15

245/50R15

215/45R17

215/40R18

195R70R14

205/60R15

185/65R16

245/40R17




225/60R14

225/55R15

205/50R16

225/45R17




79

185/80R14

195/70R15

185/65R16

185/60R17

215/45R18

195/75R14

205/65R15

195/65R16

205/55R17

225/45R18

195/80R14

215/65R15

205/60R16

215/50R17

235/40R18

205/75R14

225/60R15

215/60R16

225/50R17

245/40R18

215/70R14

235/60R15

225/55R16

235/50R17

245/50R18

245/60R14

165/75R16

235/55R16

245/45R17




175/80R15

175/70R16




80

215/80R14

225/75R15

195/75R16

225/65R16

225/60R17

215/75R15

215/70R16

245/60R16

245/55R17

81

155/80R13

225/55R13

175/65R14

155/65R15

175/50R16

175/70R13

135/80R14

185/60R14

165/60R15

195/45R16

185/65R13

145/80R14

195/55R14

175/55R15

205/40R16

195/65R13

155/70R14

205/55R14

185/55R15

215/40R16

205/60R13

165/65R14

135/70R15

195/50R15

215/35R17




165/70R14

145/70R15

255/45R15